Location: 2095 Gallagher Rd, Plymouth Meeting, PA
Price per meal: $8.29 – $15.99
Other Locations: All over the US
Despite it's seemingly average menu pricing, Cracker Barrel is a great place to get a lot of good food without breaking your budget. Every meal begins with a plate of biscuits and cornbread, which is served on the house. Amazingly, they'll happily provide you with additional platefuls for the exceptionally reasonable price of *nothing*.
The biscuits are fantastic. If you've eaten biscuits at fast food chicken joints like Popeye's and KFC, you'll know what to expect. Cover them in butter for maximum enjoyment!
Most of the entrees come with 2-3 side dishes, which include things like mashed potatoes, steak fries, and veggies. My personal favorite combo of side dishes is mac & cheese, dumplings, and fried apples — all are delicious.
The mainstay of the Cracker Barrel repertoire is Chicken Fried Chicken ($8.99).
It may be one of the most delicious meat platters known to man. It consists of a juicy boneless chicken breast, breaded and fried. A healthy smattering of equally delicious sawmill gravy is spread on top, which amplifies the juiciness of the chicken and provides additional flavor.
Shef Steve took a chance with a newer menu item, the Apple Cheddar Chicken. ($8.29)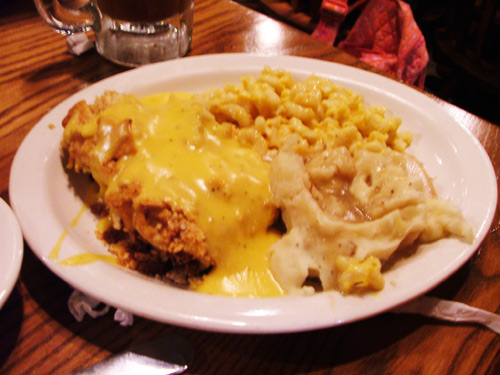 It's similar to the Chicken Fried Chicken, but it's been baked with sweet apple spices, a cheese sauce, and Ritz Crackers.
Steve's Assessment
The Cheddar sauce gave plenty of flavor to the dish on it's own, but the 'burnt' Ritz sprinkled about overpowered even the flavor of the chicken. Unless you're a HUGE cracker fan (or have no working taste buds left), I'd hold the Ritz.
Al chose the Chicken Tenderloins, ($8.99) which are six large hunks of chicken either marinated grilled or breaded and deep fried.
Al's Assessment:
If it's one thing Cracker Barrel does right, it's chicken. You absolutely cannot go wrong with any poultry on their menu. I was a little apprehensive to order something other than the mainstay of Chicken Fried Chicken but was immediately satisfied upon the first bite that was dipped in the delicious honey mustard sauce. The tenderloins are just like a bigger and better version of Micky D's Chicken Nuggets, all white meat and properly covered in goodness. Fried Apples and Mac & Cheese seal the deal. Top notch eatin'.
Portion Size: 8/10
Way more satisfying that it initially appears. Even the most voracious eaters will leave will a full stomach.
Overall Taste: 9/10
Yes, it's a chain theme restaurant, but hot damn is their food tasty.
Service: 9/10
Though you get the idea they've been honed through packaged seminars, the staff is always pleasant and agreeable. The food always comes out *remarkably* quickly.
Value: 8/10
$9 entrees don't seen like a fantastic deal, but the addition of 2-3 side dishes at no extra cost sweetens the arrangement. Be sure to make use of the recurring biscuits and cornbread!
Ambiance: 6/10
The decor is hokey "olde-timey" fluff, but it's not particularly offensive. What is offensive, however, is the smoking section. Those who request a non-smoking seat still have a good chance of being seated within the radius of smoketown USA. It can put a damper on an otherwise great eating experience.
OVERALL SCORE: 8/10